Koh Samui Tours
Koh Samui tours and excursions are appropriate for all kinds of visitors. Whether you've come to Samui resolutely determined to relax in peace and absorb the sun's rays or to experience everything the island has to offer, we've got something for you. From island-hopping through beautiful Ang Thong Marine National Park to exciting ATV tours through the jungle to a gourmet tour to sea fishing, you can have the day out of a lifetime. Check out the tours in Koh Samui and release the child within! Come out and play, meet other like-minded visitors and learn more about this fascinating tropical island where the fun never ends, all at the same time.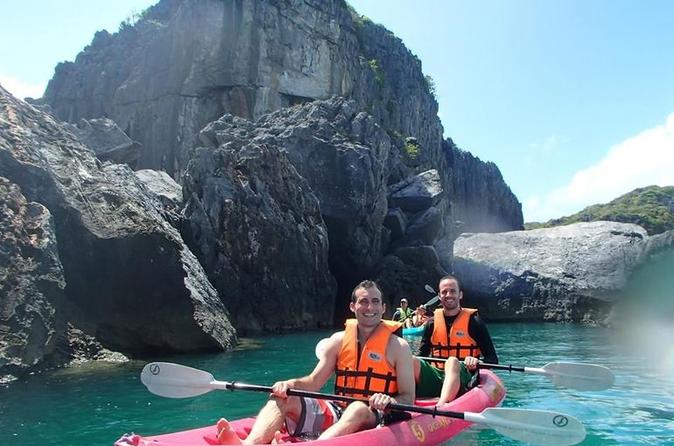 Sea Kayaking at Ang Thong National Marine Park from Koh Samui
Experience the beauty of Ang Thong National Park on this sea kayaking adventure from Koh Samui. Your hand-picked local guide will offer plenty of information and insight as you paddle through the cluster of islands that make this marine destination unique. Explore hidden lagoons and secluded caves, enjoy a tasty Thai meal and enjoy the wonder of soaring along the crystal clear waters of this tropical destination.

Highlights
- Explore Ang Thong National Marine Park via kayak on this full-day tour from Koh Samui
- Venture into hidden lagoons and caves
- Breakfast and lunch will be provided
- Friendly and informative guide Includes
- hotel pickup and drop off

Head out into open waters aboard a three-level escort boat that will depart from the coast of Koh Samui. Set sail for Ang Thong National Marine Park and enjoy a light breakfast as you look out at incredible tropical Thailand views. Upon arrival at the park you'll set off along the coastline of Koh Mae Koh in a sea kayak and paddle under huge limestone cliffs through crystal blue waters. You'll follow your guide to Talay Nai, also known as the Green Lagoon. This saltwater lake at the center of the island is home to a diverse array of marine life and a beautiful sight to behold. As you explore the island you'll make your way to the highest point of the park using wooden walkways and handmade staircases. Enjoy breathtaking views of the surrounding scenery once you've reached the top. From there it's off to Koh Wao or Tai Plao. While most other tours avoid these out of the way spots, our expert guide will lead you through one of the area's most spectacular kayaking and snorkeling spots. Navigate through thick foliage and bizarre rock formations while you paddle past peaceful lagoons and shadowy caves. Lucky travelers may even spot families of dolphins or the occasional sea turtles swimming alongside their sea kayaks. After an exciting day exploring Ang Thong National Marine Park head back to your Koh Samui hotel with your guide and professional driver.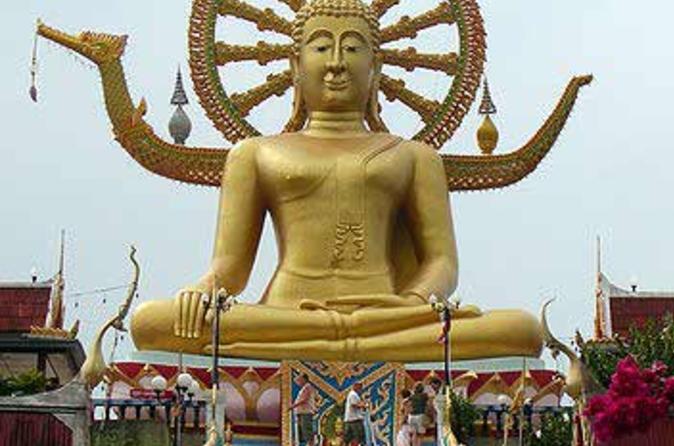 Koh Samui Round Island Sightseeing Tour
Experience the best of Koh Sumai with this Round Island sightseeing tour that hits all of the highlights. Explore this popular boutique island with your friendly local guide. Make stops at Grandpa and Grandma Rocks, the famous Big Buddha and NaMuang Waterfall, plus learn about the numerous beaches and resorts that dot the island.

Highlights
- Great overview and orientation of Koh Samui
- Grandpa and Grandma Rocks - Natural rock formations that will raise an eyebrow
- Big Buddha - Sitting 15 meters tall it is a monumental landmark on the island
- NaMuang Waterfall raises to 18 meters high and offers spectacular views of the islands natural wilderness
- Local guide
- Hotel pickup and drop off

Your friendly and professional local guide will meet you at your Koh Sumai hotel and transport you in air-conditioned comfort on this whirlwind tour of the island. Get oriented as visit some of the major highlights on this city tour of Koh Sumai. You'll check out the natural rock formations known as Grandma and Grandpa and pay a visit to the spectacular NuMuang Waterfall, which stretched some 18 meters high. Check out the incredible views of the surrounding landscapes and snap photos of this thundering beauty. Make your way to Big Buddha—Sumai's most popular and best-known attraction. The 15-meter-tall monument is a landmark on the island and a must-see for travelers on their tour of this incredible destination. Enjoy the best of Koh Sumai on this memorable journey !